NOW OFFERING: PRIVATE WORKSHOPS
One-on-one workshops are a great way of learning, at your pace and time. All training sessions are specially tailored to your needs, to fit your skill level and previous knowledge on the subject. You will be working with a professional team and experienced models in beautiful, mystical locations. We will be talking about colours and composition, art history and lighting, posing and directing, and if desired, retouching and photomanipulation as well.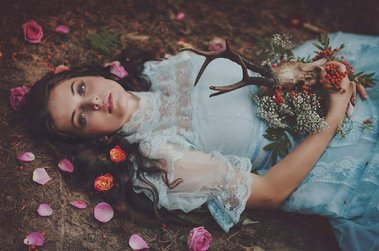 SIGN UP FOR A PRIVATE CLASS
Describe your current skill level and what you wish to learn from us - and feel free to send along a link to your portfolio.
PREVIOUS WORKSHOPS
24.09.2022 - Kilingi-Nõmme, Estonia
storytelling / fantasy photography workshop
4.09.2016 - Ohtu, Estonia
fantasy photography workshop
28.06.2016 - Kirna, Estonia

fantasy photography workshop
12.05.2015 - Kau, Estonia
fantasy photography workshop with Taavi Luhamaa
10.01.2015 - Kehtna, Estonia
fantasy/fashion photography workshop with Gen Vagula and Taavi Luhamaa
27.09.2014 - Kolga, Estonia
fantasy/fashion photography workshop with Gen Vagula
22.08-24.08.2014 - Padise, Estonia
fantasy/fashion photography workshop with Gen Vagula

13.07.2014 - Tallinn, Estonia
fantasy photo / storytelling / retouching workshop